Knitting Guilds
Estes Valley Knitting Guild
The Estes Valley Knitting Guild is now official. This guild is part of the national TKGA (The Knitting Guild Association). There are over 10,000 members and is the largest knitting association in America. We are so lucky to have a local chapter locate in our community.
The Estes Valley Knitting Guild is a starting point for knitters searching for new ideas, products, markets, patterns and fellow knitters who share the excitement of knitting.
MEETINGS
The Estes Valley Knitting Guild will begin meeting on the second Thursday of each month at the Fiber Arts Center (1350 Graves Ave, Estes Park) from 6:00 PM – 8:00 PM.
June 9th,  July 14th,  August 11th,  September 8th
www.rmfiberandneedleartscenter.com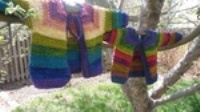 Front Range Knitting Guild
The Front Range Knitting Guild is a non-profit organization that is affiliated with The Knitting Guild Association (TKGA).
The guild was founded by Ann Young in 2006 to serve the knitters of Northern Colorado, and its mission is to promote and advance the quality, workmanship, and creativity of knitting.
The guild has a diverse membership with varying levels of knitting expertise, but we all share a passion for knitting.
Monthly meetings include a knitting-related educational program, show-and-share, book raffle and social time.
As a chapter of the TKGA, the guild sponsors a monthly Master Knitters support group for its members.
The guild also sponsors periodic hands-on knitting workshops to enrich its members' enjoyment and mastery of knitting.
MEETINGS
The August meeting has been canceled (there are no rooms available in the McKee Building).
September 24th – Vicki Square will be doing a program and workshop. Please send a check for $25 made payable to FRKG to Ann Young, 2409 Logan Ct, Loveland, CO 80538, for lunch and workshop.
Other meeting dates and events: June 18 – Knitting Social July 9 – we'll celebrate the guild's birthday – more details later August – no meeting
August 19 – Stitch 'n' Pitch at the Rockies Game (vs the Dodgers) – please contact Julie (jewels1952@msn.com) if you are interested in sitting with the guild and knitting in public –
more info at http://www.stitchnpitch.com/
Sept 10 – Shop Hop
Doreen is coordinating and will get details to us later. We will go to shops in Denver. We can use more books for the raffle, so please consider donating to our guild when cleaning out your stash. Thanks!
Knitting Guild Service Projects

The Estes Valley Knitter's Guild is supporting the Estes Park police and ambulance service. They are in need of blankets to be kept in their emergency vehicles.
You can knit or crochet any worsted weight machine washable yarn into 10 inch by 10 inch squares. thanks to JoAnn Mullen and Liz DeCleene for orgainizing and coordinating making these donations into squares.